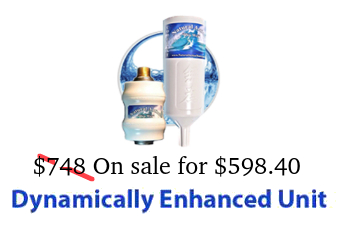 DE Traveler Package
Rating: Not Rated Yet
20% Off $748
Description
The Traveler Package
DE PORTABLE UNIT and DE MINI SHOWER
The Dynamically Enhanced (DE) Portable Unit for a person on the move who wants to be able to have balanced water wherever she or he goes and someone who is renting and does not want to permanently install a unit in the home.
The DE Mini Shower Unit can be installed in the shower for a wonderful showering experience with softer water.
These two Dynamically Enhanced Structured Water Units are the perfect travel companions.
The line of Dynamically Enhanced Units have a flow-form inside that is the same structure and size as the flow-form in the current units, but is made from a combination of proprietary materials that dynamically enhance the energy of the unit and create a static energy that exists even before the water flowing through the unit is structured (Learn More).
These statements have not been evaluated by the Food and Drug Administration. This product is not intended to diagnose, treat, cure or prevent any disease.
These statements have not been evaluated by the Food and Drug Administration. This product is not intended to diagnose, treat, cure or prevent any disease. - See more at: http://shop.structuredwaterunit.com/Dynamically-Enhanced-Super-Shower-Unit-007DE.htm;jsessionid=7D399E987FB5A00A794F152BEA9F1194.m1plqscsfapp03#sthash.pBm4BO2s.dpuf