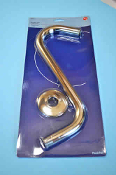 Shower Riser
Rating: Not Rated Yet
Description
An additinal item you may be interested in when purchasing a Shower Unit is the Shower Riser, also known as a Shower Arm.
Since installing a Shower Unit is going to lower the shower head, those who are taller may wish to include a shower riser to raise the entire unit and shower head up higher. It is super easy to install.
FREE WORLDWIDE SHIPPING!