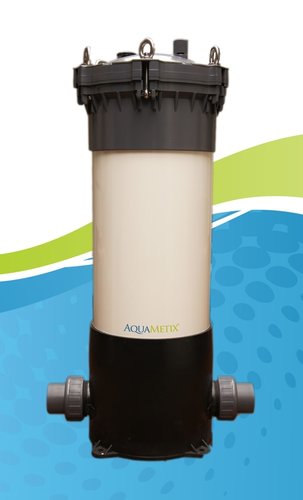 Aquametix Whole House Water Filter System
Rating: Not Rated Yet
The WHOLE HOUSE AQUAMETIX CARBON FILTER provides you with the best in water purification.
Description
AQUAMETIX CARBON FILTER
The WHOLE HOUSE AQUAMETIX CARBON FILTER provides you with the best in water purification.
WATER FILTER MODULE
AquaMetix Carbon Technology will deal with:
Chloramine
Chlorine
VOC's
Fluoride
Lead
Glyphosates
Arsenic
Aluminum
Anitmony
Camium
Chromium
Nitrates
Mercury
Pharmaceuticals
Trihalomethanes
Radionuclides
Bacteria
Cysts
Tase & Odor
Turbidity
The MultiRound vessel holds either five or nine, AquaMetix® 20" cartridges designed to offer a high flow solution for specific removals of challenging contaminants. The five filter system can effectively treat up to 5 gpm and the nine filter system can treat up to 9 gpm.
3rd party tested for the removal of Chloramine, Chlorine, Lead, and Mercury while reducing a wide array of toxins and chemicals.
Capacities for 5 gpm* flow filters:
30,000 gallons Choramine >99% (non-detect)
30,000 gallons Mercury >97%

30,000 gallons Fluoride >85%

30,000 gallons Lead >98.5%

60,000 gallons Chlorine >99% (non-detect)
*5 gpm will cover most houses but if you need more than 5 gpm give us a call 1-866-550-1444
What is AquaMetix®?
A proprietary matrix comprising of at least two types of activated carbon, combined with proprietary Zeolite minerals, structurally bound with polymers into a highly porous block filter form.
This very unique adsorbent will adsorb a variety of organic and inorganic substances; chlorine and the more difficult to remove chloramine. AquaMetix® is a unique technology designed to provide the highest quality drinking water possible from a single stage block filter.
AquaMetix® will reduce a wide variety of drinking water contaminants of both aesthetic and health concern. The dense pore structure and vast surface area is ideally suited to improving taste and odor, color, chemicals, and fluoride.
AquaMetix® combines the highest FDA-compliant raw materials, with cutting-edge manufacturing methods resulting in unparalleled performance in an exclusively U.S.A. Manufactured product.
Yearly Filter Replacement Cost: $395 for 5 filters
Filter Change Frequency: 6-12 Months
AquaMetix Dimensions: 20"w x 20"d x 33"h
These statements have not been evaluated by the Food and Drug Administration. This product is not intended to diagnose, treat, cure or prevent any disease.