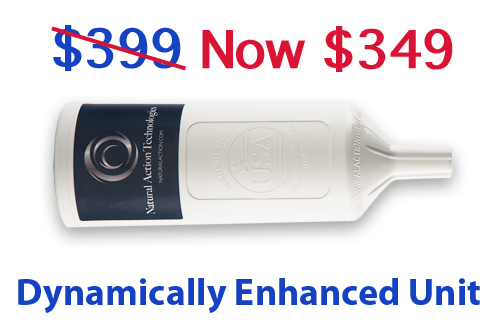 Portable Structured Water Unit - Dynamically Enhanced
Use SWU10 at Checkout for additional 10% Holiday Discount!
Description
The Dynamically Enhanced Natural Action Portable Structured Water Unit is for the person who wants the full effects of dynamically enhanced structured water wherever they go. The line of Dynamically Enhanced Units have a flow-form inside that is the same structure and size as the flow-form in the current units, but is made from a combination of proprietary materials that dynamically enhance the energy of the unit and create a static energy that exists even before the water flowing through the unit is structured (Learn More).


The Natural Action Portable Structured Water Unit has a built in funnel and serves as a portable unit. It is for a person on the move who wants to be able to have balanced water wherever she or he goes and someone who is renting and does not want to permanently install a unit in the home. Structured water is most effective when consumed as close to its source as possible. Structured water has memory and will incorporate the vibration of its immediate surroundings. Although it can be stored in five gallon containers for dispensing at a water unit, it tastes and feels best immediately after it is processed by the Structured Water Unit. The Portable Unit meets all these needs. Keep in mind this is structured water which has memory so there might be slight changes in its effectiveness if it is stored for a bit of time or is stored in a plastic jug.



Dimensions: L: 7 1/2 in.

Weight: 9.4 oz.

Pipe Types: None - Hand Held

FREE WORLDWIDE SHIPPING!*
​